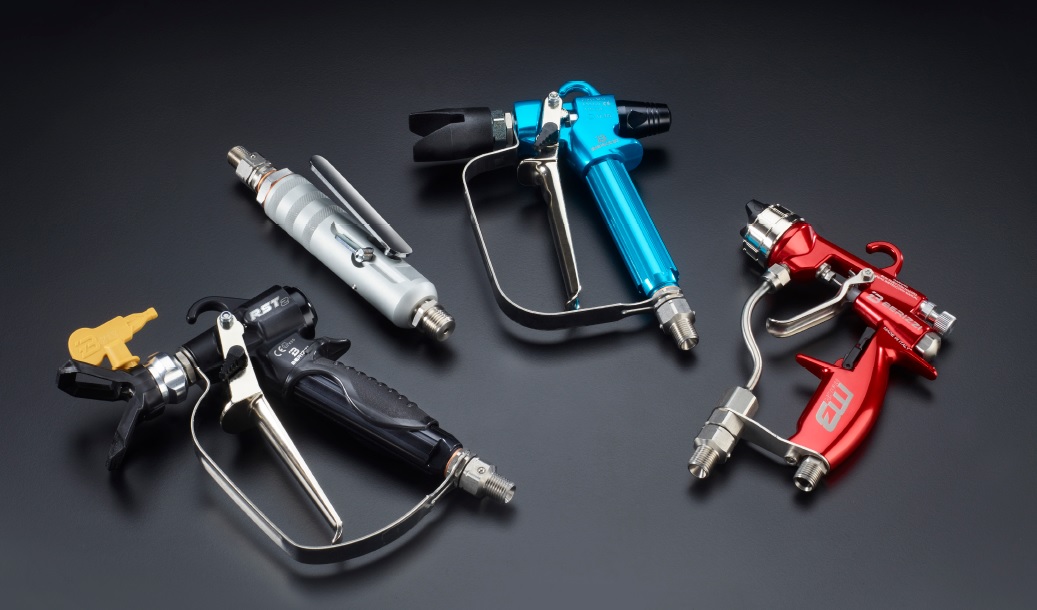 Berizzi produces and supplies manual paint spray guns in both airless and air assisted airless. Each spray gun provides high quality finishing and transfer efficiency, all while ensuring maximum user comfort. These spray guns are compatible with the main brands available in the sector including Graco, Wagner, CA Technologies, Optima, Kremlin, Anest Iwata, Binks, Wiwa and Titan. Berizzi spray guns satisfies every painting need regardless of the type of material being sprayed, the flow rate and the degree of finishing required. In addition, each gun has a dedicated repair kit, allowing the gun to remain in the best working condition to always provide top finishing results.
The RST1 and RST2 airless high pressure guns offer the softest trigger on the market today. Each airless spray gun is manufactured with a stainless steel swivel to guarantee the best comfort and hand freedom at all times. These spray guns are available in either 4350psi and 7250psi, as well as, in two or four finger trigger.
The MACH3 air assisted airless high pressure spray gun is most versatile gun on the market today. It is completely compatible with the most common brands on the market including Sames Kremlin, CA Technologies, Graco, Wagner and Optima. Designed to improve the application and quality, the MACH3 is suitable for spraying in the metal and wood finishing industry. The lightweight and ergonomic design of the MACH3 achieves unsurpassed atomization, all while providing you with much needed savings!