APOLLO 40 AIRLESS 40:1 PNEUMATIC PISTON PUMP
Comes equipped with a suction system, inline filter, RST2 spray gun, reversible spray tip and 25' airless hose.
TECHNICAL FEATURES
All the components in the fluid section are stainless steel and tungsten carbide, to guarantee only the best performance and quality.
The Apollo 40 is designed for use in medium to high pressure paint spraying both in airless or air assisted airless.  Ideal for use in woodworking or metal finishing.
Material uses included medium to high viscosity varnish, lacquers, enamels and primers.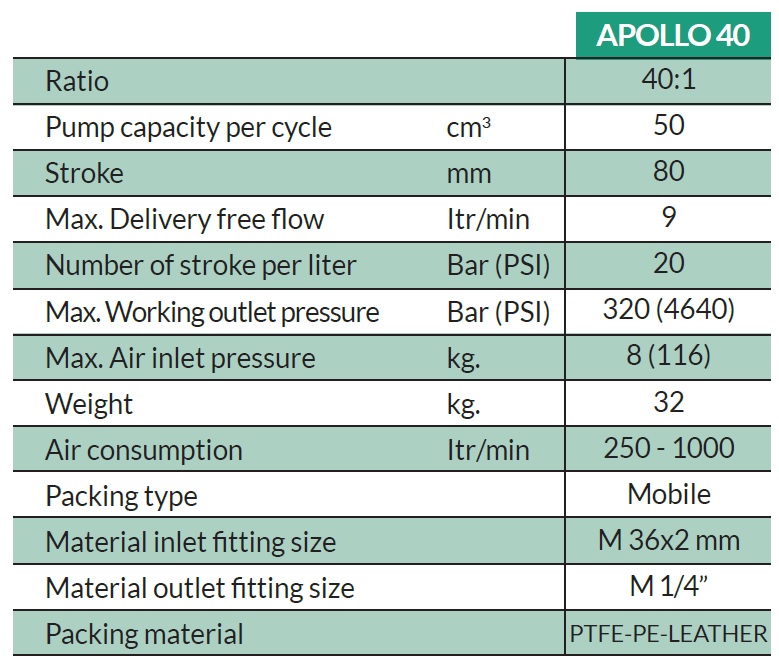 INCLUDES
Apollo 30 Airless 40:1 Pneumatic Piston Pump
Pressure Regulation Control Plate
Cart
Complete Suction System
Inline Filter Housing with Filter
RST2 Airless Gun
Reversible Spray Tip - Size 411 (Additional sizes available upon request)
25 Foot Airless Hose

SEE OWNERS MANUAL FOR ADDITIONAL INFORMATION