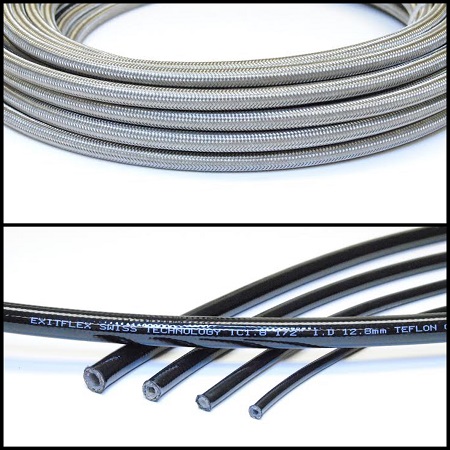 Our PTFE hose has excellent characteristics both in extremely high and low temperatures and consists of a variety of sizes and pressure ranges. PTFE hose and tubing can be seen applying a large selection of spray coatings as well as transferring hydraulic oils, gas, chemicals and steam. It is chemically resistant of all common solvents including acids and bases, which is why it can already be seen within the surface treatment, medical, chemical, aerospace, electronics, pharmaceutical, manufacturing and food processing industries.
The mid-range pressure stainless steel braided hose is available in two different cores, smooth bore and convoluted. Smooth bore stainless steel hose provides for easy assembly and fast flow. The convoluted PTFE hose inner tube provides added flexibility to the larger sized diameter pressure hoses to solve your fluid dynamics needs. This stainless steel flexible hose has the lowest coefficient of friction of any polymer and resists deterioration, which is why it is commonly used with harsh chemicals. If a higher PSI pressure hose is required, try one of our thermoplastic covered PTFE hose. This series of hose is available from 1/8" ID to 1/2" ID and rated up to 5,000 PSI.
Our PTFE tubing is a low pressure solution for more than just your fluid handling needs. This tubing is a natural color and easy to clean due to a non-contamination property. If your temperature requirements range up to 500°F (260°C) then our PTFE hose is certainly the recommended choice. Paired with our fully stainless steel reusable fittings, it will solve all of your fluid mechanics requirements and much more.