KM Coating provides top of the line products to ensure your tools work at their full potential. In particular the airless spray tips, which are offered in various sizes, will help in solving your fluid handling needs. Whether you require contractor tips, industrial tips, fine finish spray tips, robotic airless spray tips or line marking paint sprayer tips, you can find the right item to get the job done. Each items supplied from KM Coating is guaranteed to be reliable for any job you put it through. We use only the finest materials for the construction of our products, such as stainless steel bodies and tungsten carbide inserts. We check and test all of our spray tips individually to ensure the correct fan pattern and flow rate is being supplied.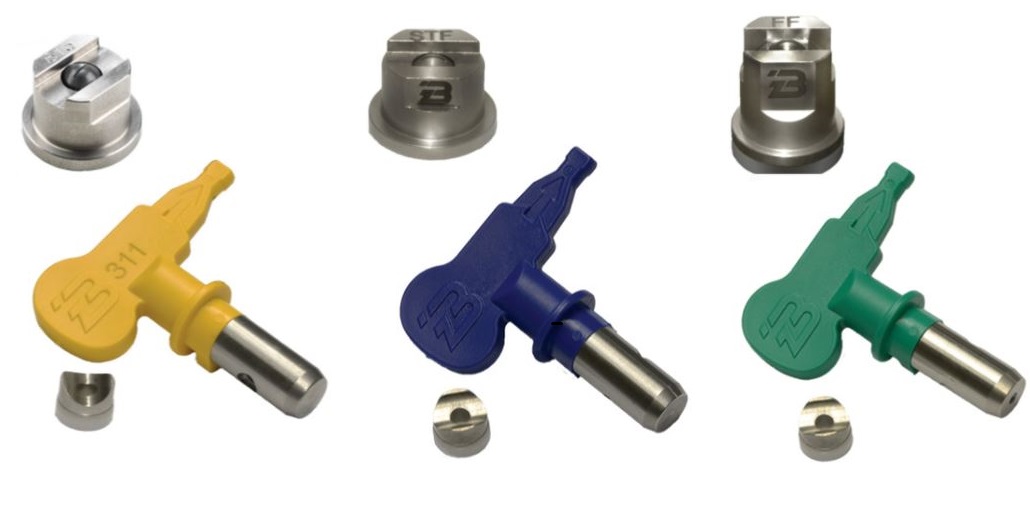 Not only are our airless spray tips carefully and skillfully crafted but they can be used with various spray coatings. No matter what the job, KM Coating's parts can be used to ensure quality work. For convenience our parts are interchangeable with other manufactures brands, no matter the job or sprayer that you may be using. Various services and industries use our parts and tools because they know our products can be trusted for producing only the fine finish results they require.
Quality Airless Spray Tips
Due to the solid construction and testing of each airless spray tip, we can ensure quality products and quality results. Each spray tip is easy to assemble with your finishing equipment and can be used with various spray coatings on the market today. For any project you may need to complete, our airless spray tips can make it easier in solving your fluid handling requirements. We make it easy to identify our parts so you know exactly which one is best for you. These airless spray tips can be used with many of our other products making it easy to find everything you need to complete your projects. KM Coating stands behind the quality of all our merchandise and ensures only the best products, producing the best results.