B24 DOUBLE DIAPHRAGM TRANSFER 1:1 PNEUMATIC PUMP
Double diaphragm transfer pump with pressure regulator
TECHNICAL FEATURES
All the components in the fluid section are stainless steel and tungsten carbide, to guarantee only the best performance and quality.
The B24 double diaphragm transfer pump is suitable for low pressure air spraying with paint atomization air or low to medium viscosity fluid transfer.
Applications include being used with enamels, lacquers, base coats and varnishes, in the wood and metal sector.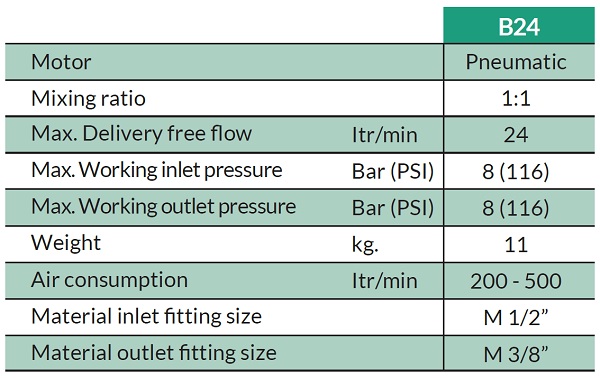 INCLUDES
B24 Double Diaphragm Transfer 1:1 Pneumatic Pump
Pressure Regulator

SEE OWNERS MANUAL FOR ADDITIONAL INFORMATION